Department News, Fall 2019
Message from the Chair
Department Spotlights
Department Announcements
Alumni Updates/Class Notes
Donor Recognition
Support the Department
---
Message from the Chair
Tad Zawidzki
Chair, Department of Philosophy
The 2018-2019 academic year brought lots of good news and exciting events to the GW Philosophy Department. Laura Papish earned tenure and promotion to the rank of associate professor. With the tireless assistance of Executive Administrator Hyehmi Nolan, Gail Weiss organized an extremely successful three-day conference in June 2019: Diverse Lineages of Existentialism II (more below). Our curriculum saw continued innovation, including new courses on The Ethics of Belief (Avery Archer) and Political Theology (Joseph Trullinger). Faculty continued to produce first-rate publications, e.g., Avery Archer's "Wondering about What You Know" in the prestigious journal Analysis. Avery also successfully completed his mid-tenure review. Finally, our graduate students continued to find success applying for PhD programs and non-academic positions. Megan Ritz was admitted to Georgetown's PhD in philosophy program, Lillith Don to the PhD in philosophy program at the University of South Florida and Zach Ochs to the PhD in public policy program at American University. Rostam Assadi joined Brian Wlcek, MA '18, an older graduate of our Master of Philosophy and Social Policy, at the consulting company Deloitte.
The Philosophy Department continued its cross-disciplinary initiatives: we contributed to the curriculum for the new cognitive neuroscience BS, and I served my last year as co-director of GW's Mind-Brain Institute, which hosted a very successful speaker's series.
Deepest gratitude to Hyehmi for her invaluable help in making this amazing year possible, all while completing her master's in higher education administration at the same time! And, as ever, we are hugely indebted to our alumni, particularly Michael Thacher, BA '70, and Tom Goutman, BA '76, for their continued financial support. They set a great example, and we hope our alumni conference, planned for next October, will inspire others!
Sincerely,
Tad Zawidzki, Chair
---
Department Spotlights
2019 Diverse Lineages of Existentialism II Conference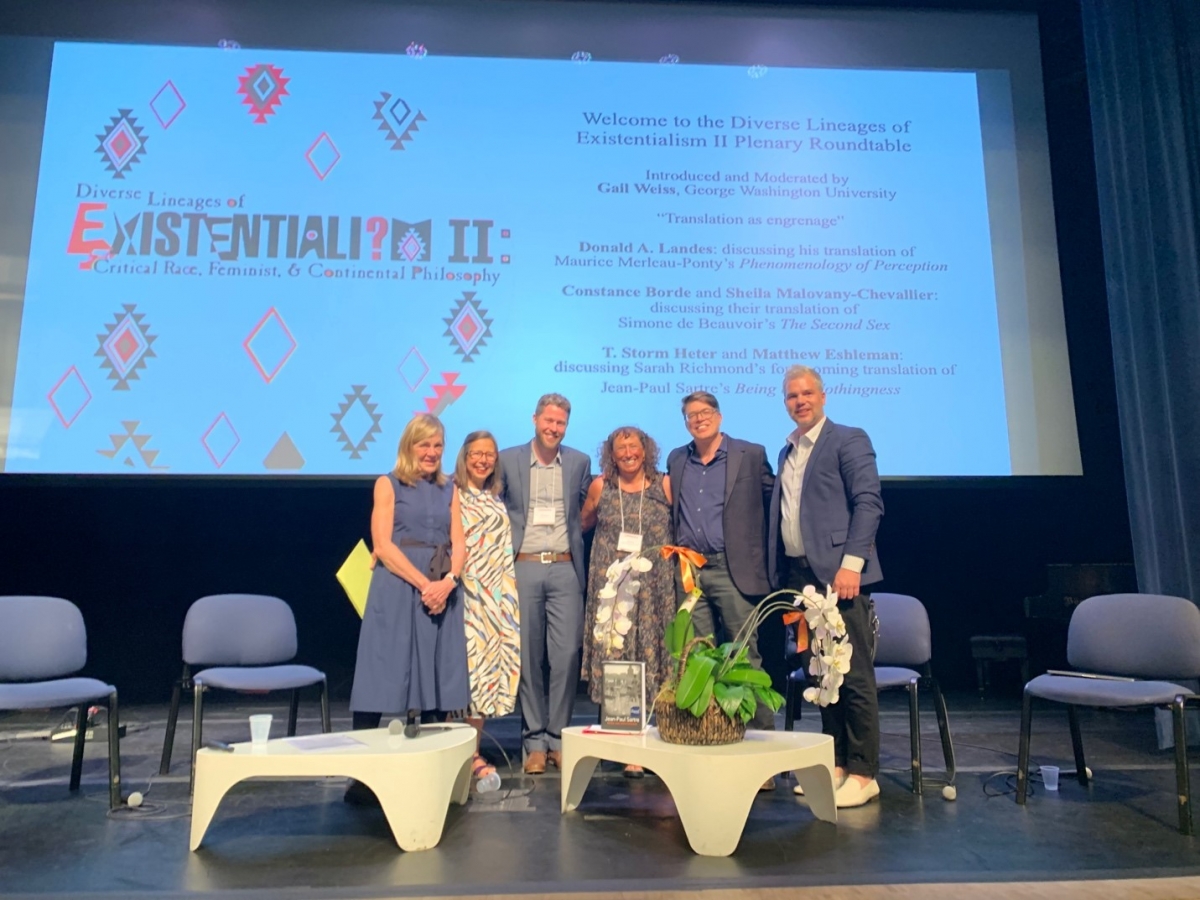 Constance Borde, Sheila Malovany-Chevallier, Donald A. Landes, Gail Weiss, Matthew Eshleman and T. Storm Heter
Over 218 scholars from all over the globe convened in D.C. on the occasion of the Second Diverse Lineages of Existentialism (DLE II) conference, which we held in the first week of June, here at GW. The conference was organized by a team of philosophers from GW, American University and Towson University, and brought together 19 philosophical societies ranging in themes from Latin-American philosophical traditions to Africana philosophy to French Existentialism and well beyond.
The conference featured three days of cutting-edge scholarship in feminism, critical race theory, and existentialism, along with exciting cultural events and presentations. We kicked off our work and festivities with a reception at the Art Museum of the Americas, which features modern and contemporary Latin American and Caribbean art. On our first full evening of the conference, the French Embassy graciously hosted our reception and round-table discussion on "Translation as engrenage," featuring translators of French Existentialist texts. Our last cultural event was a preview of the first act of Love the Struggle, a musical chronicling the romance between Sartre and de Beauvoir.
DLE II was the successor to the first DLE conference which took place in 2014 in St. Louis. We had a fantastic time continuing the tradition!
Philosophy Department Hikes Harpers Ferry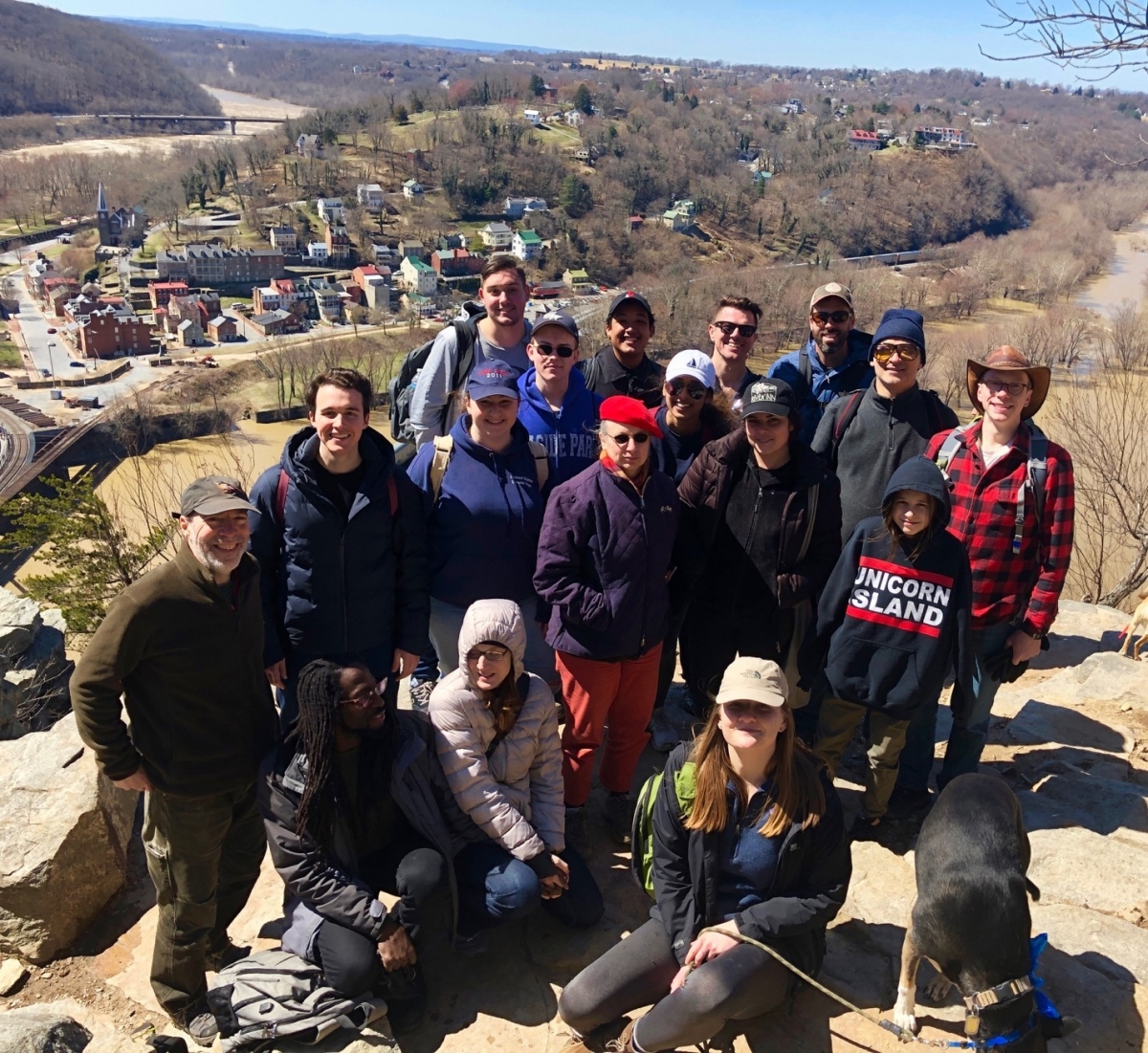 Department Hike at Harpers Ferry National Historical Park
Mark Ralkowski worked together with undergraduates Jared Bulla and Jenna McAllister to organize the first annual Philosophy Department Hike at Harpers Ferry National Historical Park. Six faculty members (Avery Archer, Michele Friend, Eric Saidel, Tad Zawidzki, Joseph Trullinger and Mark Ralkowski) hiked with many students and other guests. The trek started in the center of town and climbed to the top of a beautiful lookout, which provided views of the Shenandoah and Potomac Rivers, as well as West Virginia, Virginia and Maryland.
The weather was perfect, and it was a fantastic community building activity. It helped that, after the hike, Tad treated the faculty to a round of beers at one of the restaurants in the old town. In the future, alumni should also feel welcome to join us for these hikes!
New Initiatives for Graduates and Alumni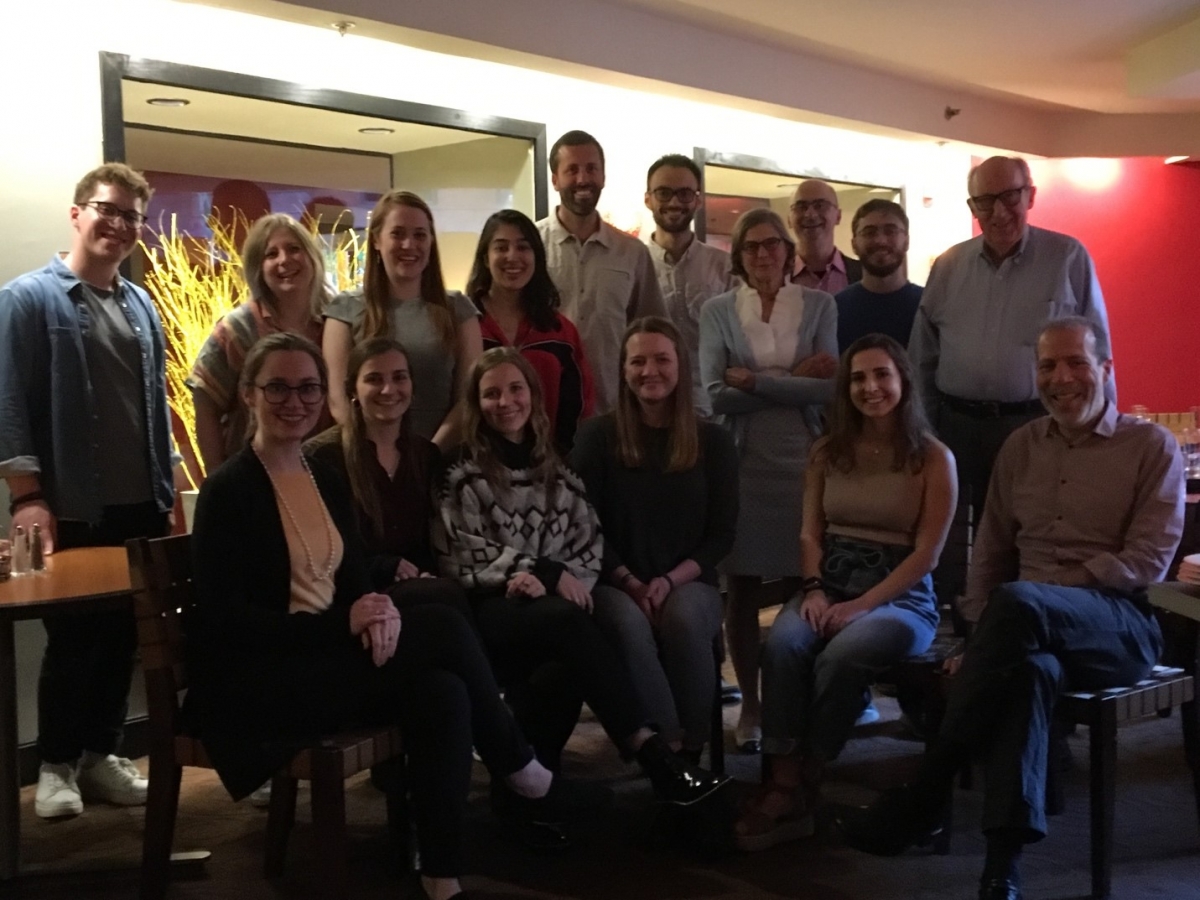 Seniors and alumni at the first annual Michael Thacher Graduating Seniors Dinner
We are extremely fortunate to have engaged alumni who continue to participate in the life of the department, providing financial and other forms of support for many of our scholarly and pedagogical projects. For example, the financial support of alumni enables us to provide both undergraduates and graduates with fellowships and travel stipends in support of their scholarship. It also funds our endowed lecture series. More recent graduates regularly mentor graduating seniors searching for forms of employment in which their philosophical education can best be put to use. Thanks to the generosity of long-time department supporter and alumnus Michael Thacher, BA '70, we have been able to initiate a number of new projects aimed at keeping new graduates and alumni engaged with the department.
This year saw the first annual Michael Thacher Graduating Seniors Dinner, which brought together graduating students with alumni and faculty, for a banquet at a local restaurant. The event was a tremendous success, sparking fascinating and enriching conversations between the new graduates and recent alumni and current faculty. Graduating seniors were able to meet and learn from recent alumni pursuing MD degrees at GW's Med School, as well as alumni employed in D.C.-area trade organizations. We plan to continue this event in future years, and we hope it will lay the foundation for a strong community of former GW philosophy students, well integrated into the life of the department.
We have also commissioned a beautiful new plaque, to honor the winners of the Thacher-Reynolds Prize, which supports research by an outstanding philosophy major in his or her final summer and academic year at the university. The prize includes a stipend of $2,000 and is made possible by generous gifts from Michael Thacher and Daniel H. Weiss, BA '79, president and chief executive officer of the Metropolitan Museum of Art (New York City), in honor of his relative Matthew Reynolds, BA '86, a department alumnus, who died of cancer while a graduate student at New York University. The department has offered the prize since 2004, and there have now been 14 winners, all of whose names appear on the plaque, which will be displayed prominently in the department's reception area.
Finally, following up on the tremendous success of our first alumni conference, organized by then-Chair Gail Weiss in 2012, we are planning a second alumni conference for October 12th 2019. All GW philosophy alumni should have received an email soliciting suggestions for date, time and topics. Our plan is to have a one-day conference, with four discussion panels, consisting of one current student, one alumnus and one faculty member, on philosophical topics of current interest, as well as a luncheon at which all student, faculty and alumni attendees can get to know each other better. Possible topics include: artificial intelligence and ethics; philosophy and technology of human enhancement and disabilities studies; animal consciousness and ethics; self-knowledge and self-deception; environmental policy; group or corporate personhood; race/gender issues; and truth and logic in public discourse. We hope this event will provide the opportunity to explore the variety of ways in which alumni can continue to participate in the life of the department.
If you are interested in getting involved with this initiative, please contact the CCAS Alumni Office at [email protected].
---
Department Announcements
Faculty Kudos
Avery Archer
Avery Archer has participated in a total of seven conferences or colloquia, including the Pacific Division meeting of the American Philosophical Association, held in Vancouver, Canada; the Southern Society for Philosophy and Psychology, held in Cincinnati, Ohio; and a colloquium talk delivered at the Fordham Epistemology and Ethics Workshop in New York City. Also, for a second year in a row, he celebrated his birthday by presenting a paper at the annual meeting of the Alabama Philosophical Society in Pensacola Beach, Florida. Avery has been on research leave for the spring 2019 semester, which he has spent working on a book project exploring when it is appropriate to adopt an attitude of agnosticism on some questions. He has also had one article accepted for publication and two additional papers in the revise and resubmit stage of the journal review process.
David DeGrazia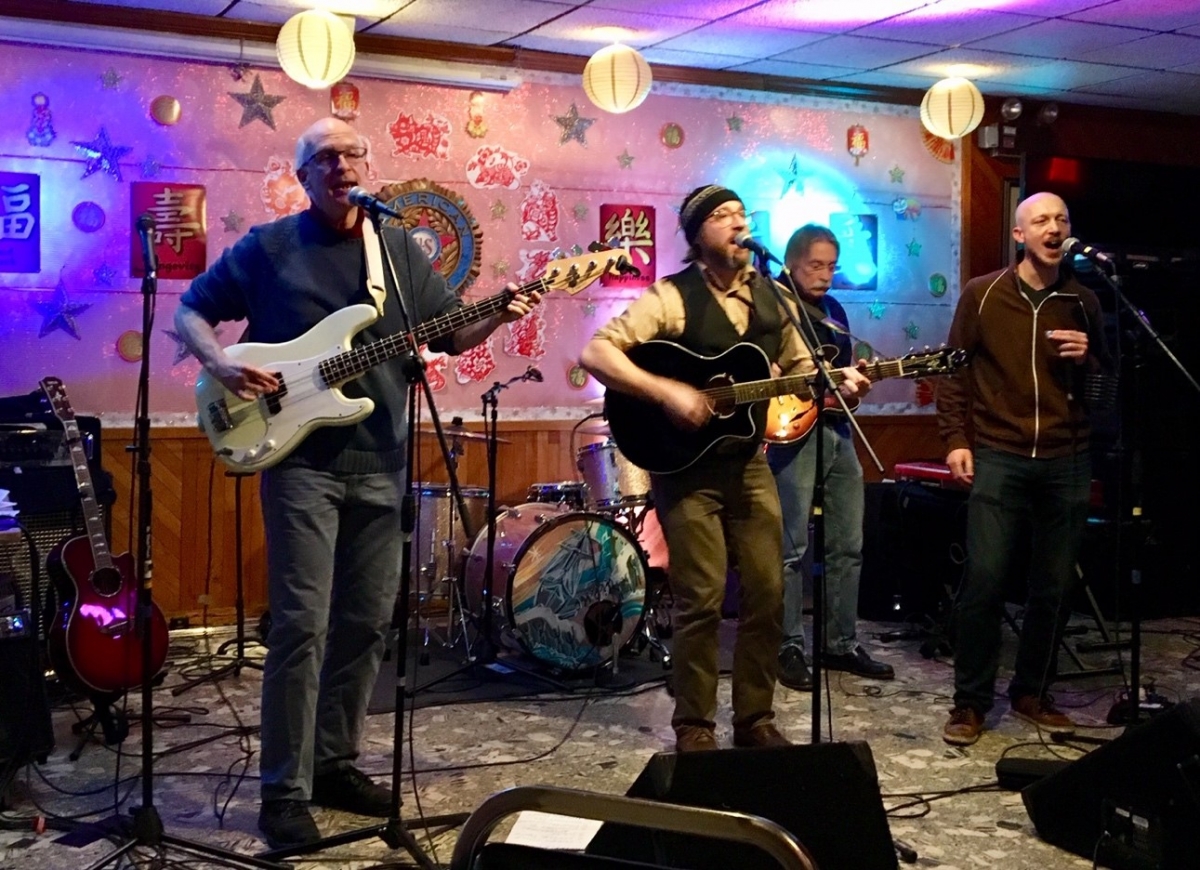 David DeGrazia (left) with his band The Variables
Elton Professor David DeGrazia returned from a sabbatical, teaching a graduate seminar on Derek Parfit in fall 2018 and Ethics: Theory and Applications in the spring. His book with Tom Beauchamp, Principles of Animal Research Ethics, is forthcoming with Oxford University Press in October. His book with Joe Millum, A Progressive Theory of Bioethics, is under revision.
A half dozen of his articles have been accepted for publication. David's talks in the
past year have included the Evelyn Barker Memorial Lecture at the University of Maryland-Baltimore County, a public lecture at the National Academies of Science, Engineering, and Medicine, and a talk at the Pediatrics Academic Society annual meeting.
Outside of work, he has deepened his engagement with music, switching from acoustic guitar to electric bass and writing his first few songs for a band he formed, The Variables, whose members include Professor Laura Papish's partner, Chris Winther, and NIH colleague Joe Millum.
Michèle Friend
"I spent a few weeks in India over the Christmas and New Year's break, visiting the Indian Institute for Engineering, Science and Technology (IIEST), in Sibpur, near Kolkata. These institutes are very prestigious—more highly ranked than the universities. They have a tiny humanities department, and asked me to give a talk at our workshop on Culture and Mathematics II, to give a series of talks to students about the philosophy of mathematics and a talk to the faculty about ecological economics. I also gave the plenary address to the Fifth International Conference on Emerging Applications of Information Technology, also at the IIEST, where I discussed marrying quantity, quality and culture from data sources. Together with me and my father, three groups of students from my class on Philosophy of the Environment and Policy submitted a session proposal of five talks for the International Society for Ecological Economics conference in Pueblo, Mexico, in September. We're very excited about the prospect of revealing an alternative to The Economics of Ecosystems and Biodiversity Project (TEEB)."
Laura Papish
Laura Papish has finished or started a number of papers on Kant, including one on his conceptions of guilt and shame in relation to Bernard Williams' and another on how innovations in Kant's philosophy of nature circa 1790 relate to his views about radical evil. She's traveled widely throughout the year—to Sicily, Vancouver, Princeton, Boston and Chicago—and has been able to do not only some fun work on Kant at these locations but also some first-rate sightseeing, with sea otters at the Vancouver aquarium and the Agrigento ruins as highlights. Within the D.C., the most memorable experience of the year was delivering, on the weekend of Valentine's Day, the "Love Lecture" at the Bier Baron for local group Profs n' Pints. Accompanied by a sold-out crowd of 180 people, two volunteer ASL interpreters and her guitar-wielding husband, Chris Winther, Laura and the audience talked about philosophical proposals regarding love while Chris played samples from classic love songs by Foreigner, Madonna and Elvis (among others). This summer, she looks forward to cursing the bullpen for the Washington Nationals and attending concerts for, at least, Lizzo and Ex Hex.
Mark Ralkowski
Mark Ralkowski had a busy academic year, in large part because he and his wife Nikki bought a house in D.C. and moved out of West Hall on the Mount Vernon Campus (where Ralkowski had been working as Faculty-in-Residence for six years) in August 2018, and they got married in the Virgin Islands in March 2019. In June, Ralkowski went to Syracuse, Sicily, to participate in a research seminar on Plato's 7th Letter and a conference on the concept of beauty in ancient Greek thought. The seminar on Plato's 7th Letter resulted in an edited volume called Plato at Syracuse, which Ralkowski co-edited with Heather Reid, the conference and seminar organizer. The book was published in early 2019, and it includes a new translation of the 7th Letter and many new articles on Plato's political involvements in Sicily.
While Ralkowski was on the island of Sicily, he took a day to hike Mt. Etna, thinking this was important to his research on Plato (it wasn't), who visited the volcano himself during his own first trip there in the fourth century BC. Later in June, Ralkowski led the Philosophy Department's third short-term study abroad program in Greece. Nine GW students studied ancient Greek philosophy and history in Athens, the Peloponnese and Santorini.
Later in the summer, Ralkowski participated in a two-week long NEH Institute on "Reviving Philosophy as a Way of Life" at Wesleyan University, the purpose of which was to revitalize the teaching of philosophy by developing new assignments, syllabi and approaches to texts and traditions that invite students to connect course material to their own lives in exciting, innovative ways. During the academic year, Ralkowski published his monograph, Plato's Trial of Athens, which came out in November 2018. He partnered with TRAiLS to go backpacking with incoming freshmen on the Appalachian Trail and to travel to Zion National Park for a fall break trip. Over winter break, he participated as a learning partner in an Alternative Breaks trip that spent a week on a sustainable farm in Puerto Rico. In February, he attended the annual Posse Plus Retreat, where he spent a weekend with GW students, faculty, staff and administrators, talking about a wide range of issues affecting the country as a whole and GW in particular. During the summer of 2019, Ralkowski will be training to be a Posse mentor, and he will take another group of students to Greece for the department's fourth study abroad program in the past five years.
Joseph Trullinger
Joseph Trullinger enjoyed the chance to restart the undergraduate Philosophy Club this year, as faculty advisor along with Mark Ralkowski. He traveled to present research at several conferences this year in State College, Penn., Lowell, Mass., and Denver, Colo. He also moved from Greenbelt to Dupont Circle, and is enjoying the commute to GW much more than before. 
Gail Weiss
"After participating in eight conferences from September through January, including talks in Paris, Vienna, Quebec City, and Chattanooga, Tennessee, I am gearing up for more traveling in May for my twin sons' graduations from Emory University and Goucher College. Fortunately, they are not the same weekend! I continue to serve as executive co-director of the Society for Phenomenology and Continental Philosophy and general secretary of the International Merleau-Ponty Circle. I have a co-edited volume coming out with Northwestern University Press this fall: 50 Concepts for a Critical Phenomenology."
Tadeusz Zawidzki 
Tad Zawidzki spent 2018-2019 on "quasi-sabbatical." This was the last year he could have used his sabbatical before he would have had to forfeit it; however, nobody else was available to substitute as chair. A compromise was reached with the dean's office: no teaching for the full year, but full administrative duties. This left him with less time to work on his new book project, Mental Well-Being as Meta-Cognitive Skill, than he'd anticipated. Besides beginning the reading required for this project, Zawidzki managed to publish two new journal articles and three new book chapters this year, and submit another two journal articles for review. He's most proud of his new publication in the journal, Contemporary Buddhism, "What Is Meta-Cognitive Skill? Kindling a Conversation between Culadasa and Contemporary Philosophy of Psychology." This is an initial exploration of themes Zawidzki intends to explore in detail in his book, and one of the fruits of his participation in last summer's National Endowment for the Humanities Summer Institute, Self-Knowledge in Eastern and Western Philosophies. The teaching hiatus also allowed Zawidzki to visit his parents in Canada for their 50th wedding anniversary.
Current Students
Congratulations to Esha Jain for completing her Thacher-Reynolds Fellowship Project!
Congratulations to Thomas Crean and Ethan Weatherdon for winning the 2019-2020 Thacher-Reynolds Fellowship.
This year, Tyler Loveless, a master's student in philosophy, attended the 12th Annual Louisiana State University Graduate Philosophy Conference where he presented a paper titled "Love as Grounds for Living Authentically." He also had the privilege of teaching a professional writing course at Prospect College in the spring.
Jacob Zionts will be attending University of St Andrews to study for an MLitt in moral, political and legal philosophy.
Ben Goehring will be starting his PhD in political science at the University of Michigan.
Philosophy major Natalie Mathes, BA '18, will be attending the CUNY Graduate Center this coming fall for a master's in philosophy, while continuing her work as a research associate of the Governance, Justice and Security Team at the United States Institute of Peace.
Graduating master's in philosophy and social policy student Zach Ochs will be pursuing a PhD in public policy at American University.
Graduating master's in philosophy student, Lillith Don will be pursuing a PhD in Philosophy at the University of South Florida.
Graduating master's in philosophy student Megan Ritz will be pursuing a PhD in philosophy at Georgetown University.
Congratulations to Nora Mishler, Jarrod J Grammel and Jacob M Zionts for completing their undergraduate theses for departmental honors.
The Gauss Prize for Excellence in Philosophy was awarded to Nora Mishler and Jacob Zionts.
The Prize for Excellence in Service to the Department of Philosophy was awarded to Jenna McAllister and Garrett Dome.
---
Alumni Updates/Class Notes
Dave Anderson, BA '81, wrote  "Common Sense 2.0," the lead article in the Jan/Feb 2018 Issue of Society. It grew out of his 2016 run for Congress in Maryland's 8th District.
Jack Croddy, BA '69, retired in 2008 as a minister-counselor. During his long career in the State Department's Foreign Service, he had overseas assignments in Amsterdam, Reykjavik, Brussels, The Hague and Naples (NATO).
Courtney Foley, BA '05, is a director at American Bridge 21st Century. She is pursuing an MBA at the George Washington School of Business. She previously worked as the deputy field director at the National AFL-CIO.
Maury Landsman, BA '65, is a retired law professor, living in Minneapolis with his wife, Julie ('66), and his dog, Moxie.
Marisa Mangini, BA '17, is currently in her second year of medical school at the George Washington University's School of Medicine and Health Sciences. She still meets with former professors to discuss philosophy.  
---
Donor Recognition
The Department of Philosophy would like to gratefully acknowledge the following generous donors who made a gift to the department from July 1, 2018 – September 9, 2019.
+ Faculty/Staff | # Parent | ~ Student | * Friend
Christopher Conner *
Tom Goutman, BA '76
Marissa Mangini, BA '17
Randy Packer, BA '90
Wendy Packer #
Sydney Prochazka, MA '09
Alexandra J. Straus, BS '19
Ethan Terrill, MA '18
Michael Thacher, BA '70
---
Support the Program
Gifts to the Department of Philosophy allow us to provide support for faculty and student research and travel, graduate student fellowships, and academic enrichment activities including guest speakers, visiting faculty, and colloquia. Each gift, no matter how large or small, has a positive impact on our educational mission and furthers our standing as one of the nation's preeminent liberal arts colleges at one of the world's preeminent universities. 
You can make your gift to the department in a number of ways:
Securely online.
By mailing your check, made out to The George Washington University and with Philosophy in the memo line, to:
The George Washington University
2033 K Street NW, Suite 300
Washington, DC  20052
By phone by calling the GW Annual Fund at 1-800-789-2611.