Laura Papish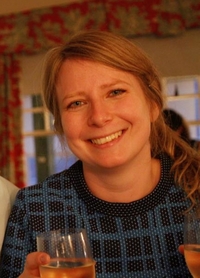 Laura Papish
Associate Professor of Philosophy
Core Faculty
---
Contact:
I am currently an Associate Professor of Philosophy with specializations in Immanuel Kant's practical philosophy and ethical theory more generally.  My works in progress consider Kant's account of a federation of nations, how Kant's natural-historical writings can shed light on his theory of radical evil, and the role of hope in Kant's thought.
Along with several other wonderful philosophers, I am a member of the DC-Baltimore Kant Workshop.
---
Areas of Specialization: Kant, Ethics
Area of Competence: Applied Ethics, Social and Political Philosophy (including Philosophy of Race and Feminist Theory), Ancient Philosophy, Modern Philosophy, 19th-20th Century Continental Philosophy
BOOK
Kant on Evil, Self-Deception, and Moral Reform. New York: Oxford Univeristy Press, 2018.
PAPERS
"Kant and Williams on Guilt, Shame, and the Morality System." In The Moral Psychology of Guilt, edited by Brad Cokelet and Corey Maley. London: Rowman and Littlefield, 2019.
"Kant's Revised Account of the Non-Moral Imperatives of Practical Reason."  Ergo, vol. 5, no. 11 (2018): 289-317. 
"Expansionist Interpretations of Radical Evil."  In Natur und Freiheit, Proceedings of the 12th International Kant Congress.  Berlin: De Gruyter, 2018.
"CAPS Psychology and the Empirical Adequacy of Aristotelian Virtue Ethics."  Ethical Theory and Moral Practice, vol. 20, no. 3 (2017): 537-549. 
"Kant on the Independence of the Moral Law from Sensibility."  Kantian Review, vol. 20, no. 1 (2015): 77-98.
"Promoting Black (Social) Identity." Social Theory and Practice, vol. 41, no. 1 (2015): 1-25.
"Aristotle on Common Perception."  Apeiron: A Journal for Ancient Philosophy and Science, vol. 47, no. 3 (2014): 342-355.
"Moral Feeling and Moral Conversion in Kant's Religion." Idealistic Studies, vol. 43, no. 1 & 2, (2013): 11-26.
"The Changing Shape of Korsgaard's Understanding of Constructivism."  Journal of Value Inquiry, vol. 45, no. 2 (2011): 451-463.
"The Cultivation of Sensibility in Kant's Moral Philosophy." Kantian Review, vol. 12, no. 2 (2007): 128−146. 
REVIEWS
"Rethinking Kant 5." British Journal for the History of Philosophy. Online first date: 19 November 2018. https://doi.org/10.1080/09608788.2018.1536034.
Ph.D. in Philosophy.  Northwestern University.  June 2011.
M.A. in Philosophy.  Villanova University.  December 2004.
B.A. in Philosophy, Summa Cum Laude and Honors in Philosophy. Penn State University, Schreyer Honors College.  May 2001.